ATTENTION, PERVERTS OF THE INTERNET: you can now buy ornaments on
Zazzle
featuring my painting of an aroused snowman!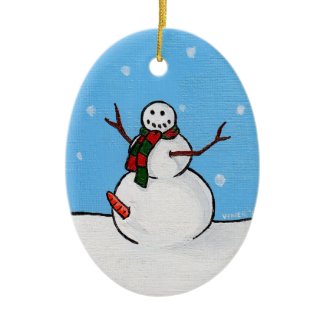 Very happy snowman ornament
by
SheSaidPop
These ceramic ornaments are super-cool because they can be printed on both sides! I've left one side blank so you can customize it with words or pictures if you'd like*. I'd also like to point out that these ornaments aren't only for your Christmas tree - they'd also look stylin' hanging from your rear-view mirror, living room ficus, or anything else on which you could conceivably hang a decorative object. Be creative!
The ornaments also come in other shapes and styles: just go to the
Zazzle listing
, click the orange "Customize it!" button, and click on "choose your style" to see the wide range of awesomeness available to you!
*Some suggestions to get you started:
Christmas 2011
May your holiday season explode with joy!
Someone sure does love winter...
Who wants cream of carrot soup?