My newest Zazzle creation for Valentine's Day is this cute card with a disembodied human heart on it: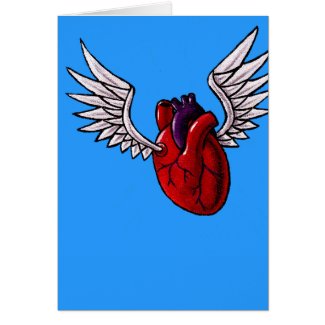 You make my heart soar
by
SheSaidPop
The inside simply says "You make my heart soar" - although you can totally change that to something else, if you want. You'll also notice that the front of the card has plenty of room to personalize it with your loved one's name - or "Happy Valentine's Day" or "Happy Anniversary" or "I am going to pull out your still-beating heart, sew a pair of hacked-off dove wings onto it, and throw it jubilantly into the air" or whatever - I'm not judging!*
Make your special someone(s) smile on Valentine's with a sweet, quirky card by an independent artist. They'll thank you for it (and so will I!).
*Although if you would actually do that last thing (instead of just writing it) I might be judging you a little bit. Sorry.