...Well, not the real Godzilla. Some other kind of huge lizard-beast. And the beast is in love with a tall building, and trying to give this building a valentine. It's pretty much the cutest thing ever: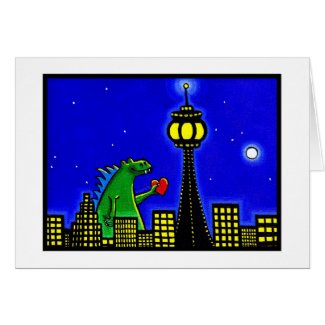 Lizard in Love
by
SheSaidPop
The inside says "You light up my life!" but you can totally change that if you want - it's customizable. :)
Other captions that I thought about using (and that you can put in there if you like 'em better) include "You can't begin to comprehend the enormity of my love for you" and "With you by my side I feel 1,000 feet tall."
The deep blue night sky and softly glowing moon and buildings on this one make me happy every time I look at it. I bet those things will make your loved one(s) happy, too!