I decided I should stock my
Zazzle store
with mushy and/or naughty cards for Valentine's Day! The first two cards that I made both have the same ice cream cone painting on the front, but different messages. There's this one, which to me is a romantic/relationshippy card with a silly twist: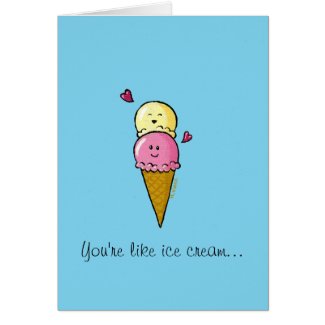 You're like ice cream...
by
SheSaidPop
...The punchline on the inside is: "...You're incredibly cool, amazingly sweet, and I'd like to bury my face in you."

D'awwwww!
Then I made this card, which is aimed more at a friends-with-benefits* sort of situation: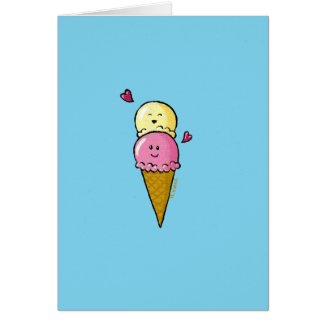 Naughty double-scoop ice cream cone
by
SheSaidPop
The inside of this one simply says, "I enjoy dry-humping you." (Annnnnnnnnnd suddenly that vanilla scoop's smile looks a lot less innocent, am I right?)
But seriously, I believe it was etiquette columnist Miss Manners who said that when someone gives you a delightful evening of crotch-friction and mingled saliva, you should give them a nice thank you...and since most of us don't have the time to compose a hand-written letter, I've graciously provided this quick and tasteful alternative.
As always, these are customizable and you can totally delete my words and put in something else if you want.
*
I'll almost certainly be making more "friends with benefits"-type cards in the future. There's a whole lot of ground between "friends" and "life partners" that your standard greeting card simply does not address, and I intend to fill that void. Repeatedly.**
**SEE WHAT I DID THERE?!?***