Today I got an email from a customer that said, "I wanted to let you know that the
bacon ornaments
arrived and are SPECTACULAR. I love them. Thanks!"
Receiving that wonderful feedback put me absolutely over the moon. I love that people are appreciating what I make! Not to mention that this person took time out of their day just to email me saying something nice. I felt so fabulous that before I went out to run some errands, I put on my new human-heart-soaring-through-the-air necklace to broadcast my lighthearted mood to everyone I passed*.
This necklace is a
Zazzle
creation made from one of my paintings - I got it in the mail on Friday. I'm super-excited because I love dramatic, funky, colourful jewellery and this certainly fits the bill! It came out fantastically vibrant and detailed, and when I wore it to the store I felt like a million bucks!
Originally, I designed this necklace as a "private product"...just for me. But when I got home from the store today, I thought you guys might like the chance to own a human-heart-with-wings necklace, too! So I made the design "public" and here you go! :)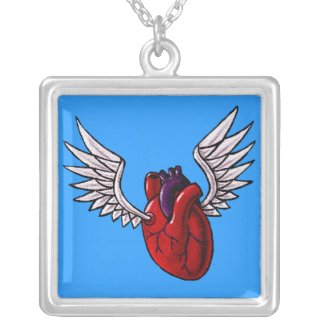 You give my heart wings
by
SheSaidPop
It's displaying a square version, but the necklace does come in "round" as well; you can see your options by going to the
Zazzle listing
and clicking "choose your style and size" on the right side of the screen. Zazzle necklaces are plated with swanky sterling silver!
BUT! D'you wanna know a secret?
My
necklace - the one I'm wearing in the photo up there - is actually a
keyring
with the ring pried off and my own chain added on! Zazzle's keyrings are the exact same product as their pendants, except made of plain silver-coloured metal. If you're not fussy about your jewellery being sterling, this option will save you some cash (plus, y'know...maybe you're
actually shopping for a keyring
). This one comes in square or round versions, too.
In summation: I'm in a great mood today, and I'm using my sternum as a canvas on which to express this. And you can, too!
*I'm a big believer in lucky talismans of various kinds. I might wear or carry something with a happy theme to show that I'm happy, or because I'm sad and hoping to turn my mood around. Maybe these "lucky objects" make a difference and maybe they don't, but they can't hurt!**
**Unless your "lucky object" is a really big butt plug. Then all bets are off.